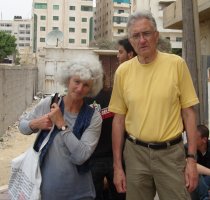 May 12 to May 17, 2011
by Peter Voss
This report will be quite different from my first report about the trip almost exactly one year ago in May 2010. Originally I had planned to continue last year's trip, but circumstances in Egypt were less favorable for me this time and towards the end of April I had given up hope of getting into Gaza this year.
It was only two days later that the chance was offered to join the Convoglio Restiamo Umani (convoy stay human) that was going to commemorate Vittorio Arrigoni on May 15, one month after he was murdered. My fellow traveler Edith Lutz and I knew very little about the convoy when we arrived in Cairo on May 10.
>>>Go to the website for continue read the report